Work has recently been completed on a fabulous new green wall in Athens, Greece!  One of SST's more unique green wall projects of 2018, the Athens project involved the installation of a green wall above the swimming pool in the basement of the COCO-MAT hotel.  The COCO-MAT Hotel Athens is a luxury design hotel located in the Athens city centre in the heart of Kolonaki, perhaps the city's most exclusive district.
As shown in the photos, the green wall is roughly 36 feet wide and 7 feet tall.  There are also plants in an existing flowerbed at the base of the wall.  Lighting the green wall and flowerbed are:
(7) SST ST30 4-foot 4,100K fixtures
The plants reportedly already show excellent growth only a month after the installation (even in this basement environment where there is zero natural light)!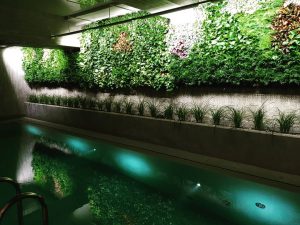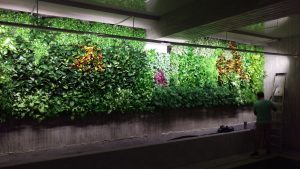 Many thanks to Spyros Kouvelis at Babylon Gardens for his work coordinating this gorgeous green wall project.  Additional thanks to Christina Deligianni for providing the photos.  We hope the plants will be enjoyed by many, many visitors for years to come!