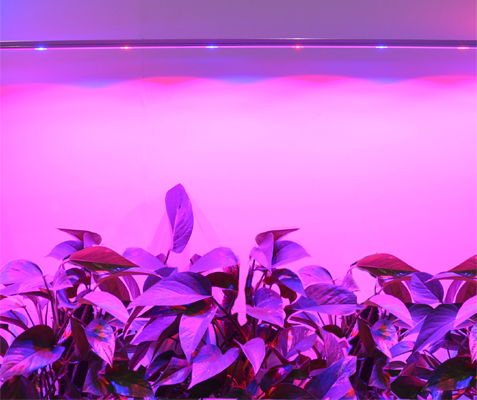 LED lighting can stimulate plant growth. Durable, light weight and long lasting LEDs horticulture fixtures are green alternative to standard horticultural fixtures. LED horticulture fixture can be made at target wavelength such as 450nm and 660nm for stimulating Photosynthesis,660nm and 735nm for Photomorphogenesis control.
SST's linear LED strips are widely used for living wall applications.  They are excellent to grow plants while providing a simple, aesthetic look.  SST has been working with University of Kansas professors and local greenhouse owners to gain experience on designing horticulture lighting systems.
SST LED strips are thin (only 0.4″ in height and 1.6″ in width) and highly efficient.  They are constructed using Aluminum, which provides flexibility for installation.  The strips are also dimmable and may be smart controlled.
Products
600W 12″ Fixture Deep Red/Blue

Total Photosynthesis Photon Flux : ~1600 umol/s (Deep Red/Blue)
Electrical Efficiency: 2.9 umol/J (Deep Red/ Blue)
Spectrum: 650nm Deep Red / 455nm Blue (Ratio adjustable)
Dimming: Deep Red and Blue individually dimmable
Housing Color: Silver
Power Control Unit: 110-277V or 249-528V, one power control unit drivers multiple fixtures.
Material: Aluminum
Models: ST80Y12M60X6DR14X6B-W
Operating Temperature: -30°C to +40°C
Power Consumption: 660 Watts

130W 48″ ST40 Strip Deep Red/Blue
Beam Angle: 90 degree or 120 degree
Total Photosynthesis Photon Flux : 441 umol/s (90 degree), 515 umol/s (120 degree)
Electrical Efficiency: 3.39 umol/J (90 degree),  3.95 umol/J (120 degree)
Spectrum: 650nm Deep Red and 455nm Blue (Ratio adjustable)
Dimming: Deep Red and Blue individually dimmable
Driver: 0-10V Dimming driver,110-277V or 249-528V
Material: Aluminum
Models: ST40Y48M16X6DR4X6B-W
Operating Temperature: -30°C to +40°C
Power Consumption: 130 Watts

65W 48″ ST40 Strip Deep Red/Blue
Beam Angle: 90 degree or 120 degree
Total Photosynthesis Photon Flux :  220 umol/s (90 degree), 257 umol/s (120 degree)
Electrical Efficiency: 3.38 umol/J (90 degree), 3.95 (120 degree)
Spectrum: 650nm Deep Red and 455nm Blue (Ratio adjustable)
Dimming: Deep Red and Blue individually dimmable
Dimensions: 48″ (L) X 1.6″ (W) X 0.4″ (H)
Driver: 0-10V Dimming driver,110-277V or 249-528V
Material: Aluminum
Models: ST40Y48M8X6DR2X6B-W
Operating Temperature: -30°C to +40°C
Power Consumption: 65 Watts

130W 48″ ST40 Strip White
Beam Angle: 90 degree or 120 degree
Total Photosynthesis Photon Flux : 355 umol/s (90 degree), 416 umol/s (120 degree)
Electrical Efficiency: 2.73 umol/J (90 degree), 3.20 umol/J (120 degree)
Dimming: dimmable
Driver: 0-10V Dimming driver,110-277V or 249-528V
Material: Aluminum
Models: ST40Y48M20X6-W
Operating Temperature: -30°C to +40°C
Power Consumption: 130 Watts

65W 48″ ST40 Strip White
Beam Angle: 90 degree or 120 degree
Total Photosynthesis Photon Flux : 177 umol/s (90 degree), 208 umol/s (120 degree)
Electrical Efficiency: 2.73 umol/J (90 degree), 3.20 umol/J (120 degree)
Dimming: dimmable
Driver: 0-10V Dimming driver,110-277V or 249-528V
Material: Aluminum
Models: ST40Y48M10X6-W
Operating Temperature: -30°C to +40°C
Power Consumption: 65 Watts
Beam Angle 90 degree, Mounting Height 12″ and 36″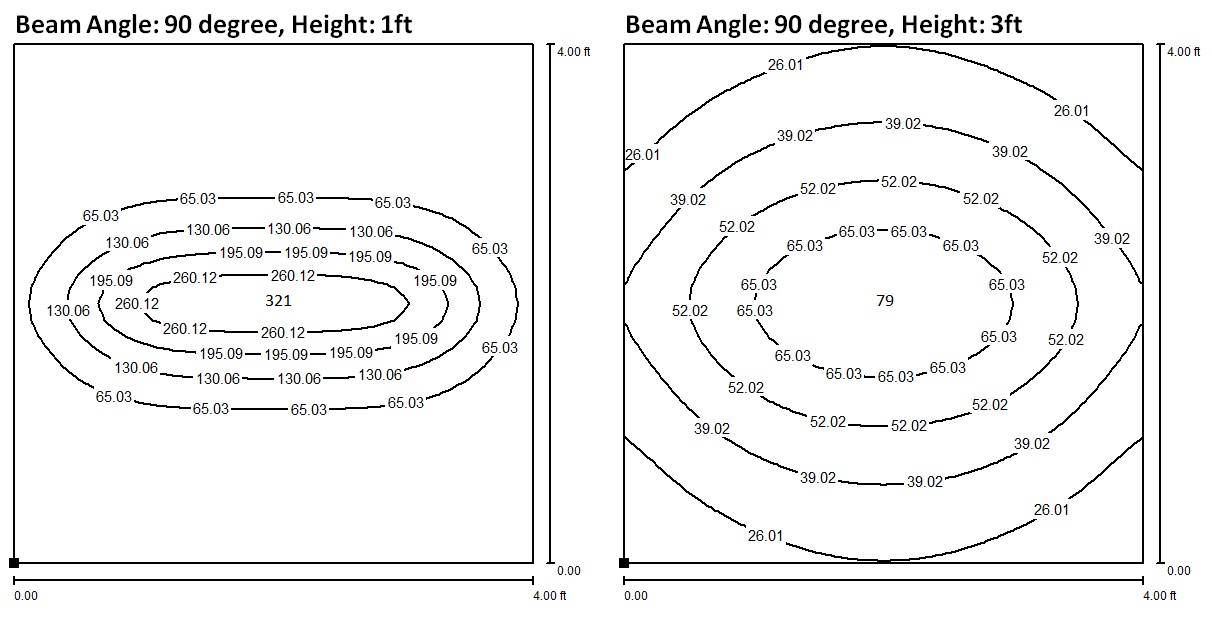 Beam Angle 120 degree, Mounting Height 12″ and 36″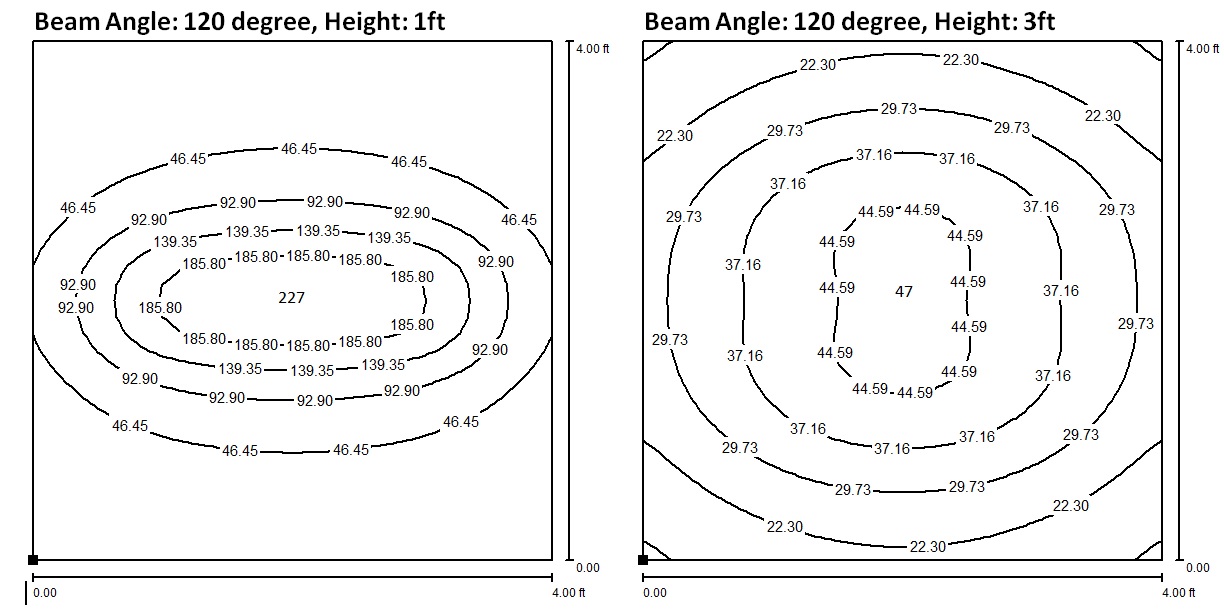 6.5W SR50 Flowering Light (Red, Far Red, Red/Far Red)
Total Photosynthesis Photon Flux : 17 umol/s
Electrical Efficiency: 2.54 umol/J
Spectrum: 650nm Deep Red and 735nm Infra Red
Dimming: 650nm and 735nm individually dimmable
Dimensions:: 2″ Diameter X 3″ Height
Driver: 0-10V Dimming driver,110-277V
Material: Aluminum
Models: SR50M1X6DRFR-W
Operating Temperature: -30°C to +40°C
Power Consumption: 6.5 Watts

Recommended ST40 Strip Layout