Gymnasium Lighting Example with ST40 fixture
The picture on the left shows before and after lighting of the Bishop Seabury Academy gymnasium in Lawrence, Kansas.  As shown in the pictures, LED lighting is fantastic for large, open spaces. It eliminate "hot spots" on the floor.
The Bishop Seabury gymnasium project made use of ninety 4-foot ST40 strip lights, resulting in:
*A reduction in energy usage  from 12,000 Watts to only 5,850 Watts
*An increase in overall light levels on the court of 20%
*More even lighting provided by a mix of direct and indirect lighting


Grocery Store and Cold Storage Lighting Examples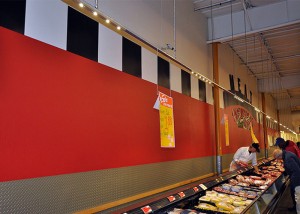 The pictures at left show SST's ST40 strip lights installed at Checkers Food Store in Lawrence, Kansas (meat department and freezer storage)
SST's LED Lighting is ideal for use in grocery stores or cold storage:
*LED's actually operate more efficiently in cold conditions!
*SST's standard LEDs do not generate any UV light, which keeps food fresh longer
*Our UL wet-listed ST40 fixtures are rugged, vibration resistant, and available from 4″ to 72″ length


Warehouse Lighting


Car Wash Lighting
Sufficient lighting is critical at car washes to provide a safe environment when working with car wash equipment.  Unfortunately corrosion can be a major problem in the harsh chemical environment of car washes.  Fortunately SST's fixtures are constructed with anodized aluminum and are highly corrosion resistant.  The pictures below show SST's ST40 linear fixtures at a car wash in Topeka Kansas.


Security Lighting

Tunnel Lighting
The ST40 fixture is excellent for use in tunnels or on bridges.  Our rugged fixtures are highly vibration resistant and not easily damaged by vandalism.  Pictures above show before and after lighting for a city tunnel in northern Lawrence, Kansas.  The initial lighting setup made use of four, 50-Watt light fixtures (200 Watts total).  SST's new lighting uses twelve, 6.5-Watt ST40 fixtures (only 78 Watts total).

Parking Garage