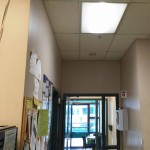 Buildings can use tremendous amounts of energy, lighting can be one of those large expenses. By utilizing a commercial LED retrofit kit you can reduce energy consumption and save money too, when replacing Florescent T8's and T12 tubes.
Sunlite Science and Technology has released a new commercial LED retrofit fixture kit to take the place of fluorescent tubes in a variety of applications. From warehouse T12 lighting to the troffers that you find in millions of office and retail buildings. Sunlite's solution to the problem of light out but and the inefficient tubes that are installed in them.
Commercial LED retrofit solutions have been around for a time but most manufacturers and suppliers are trying to replicate the effects of a tube. One problem with this is that the tubes are incredibly heavy and may strain the mounting hardware that is installed in the troffer. Also, the light output of these tube style of retrofits is very low.  With Sunlite's high output retrofit kit one manufacturer replaced six troffers with two fixtures, with more light output and more even light. These replacement fixtures are going into an 800,000 square foot manufacturing facility.
In many troffers, you may only need one of our LED retrofit kits to replace 4 fluorescent tubes.
For more information check out our catalog or click commericial LED retrofit kits.