Industrial Lighting Applications
SST's ST40 fixture is ideal for industrial lighting applications. It is especially useful to light warehouses, car washes, mechanics garages, tunnels, and bridges, and cold-storage environments.
Features of the ST40 light fixture series include:
Lightweight, thin, compact design.
UL wet-listed, corrosion resistant, and vibration resistant.
Sturdy LED modules are 0.5-inch diameter and covered by a domed glass lens.
Housing made of Anodized Aluminum is available in lengths ranging from 4 inches to 5 feet.
UL-certified to be mounted to metal frames using strong built-in magnets (an optional feature).
Easily installed and mounted to ceilings, affixed to a mounting channel, or hung as a pendant. May be adjusted (angled) using swivel endcaps.

Warehouse Lighting
Pictures below show several examples of the ST40 in a warehouse or factory setting.
The images below show ST40 lights mounted to a frame for easy installation. Also shown is an ST40 fixture hung as a pendant (from swivel caps).
SST's ST30 retrofit kits are ideal for retrofitting industrial T-8 or T-12 fluorescent fixtures in a warehouse setting. One ST30 retrofit kit replaces a four-lamp T-8 fluorescent fixture. Installation of our ST30 retrofit kits its quick and straightforward. Pictures below (at left) show SST's ST30 retrofit kits in a warehouse setting.
Shown in the image above (at right) is SST's SR200 fixture, a suspended LED bay light, at the Ecohawks Research Facility at the University of Kansas.

Toolbox and Equipment Lighting
The ST40 can be magnet-mounted to a toolbox riser or toolbox overhead as shown below.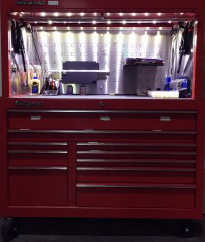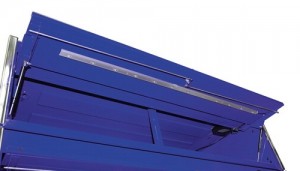 (insert picture of equipment here)
The ST40 can also be installed to add lighting inside large pieces of industrial equipment. In the image shown above (at right) ST40 fixtures are fixed inside the chamber; low voltage DC wire connects the fixture to the power supply.

Car Wash Lighting
Sufficient lighting is critical at car washes to provide a safe environment when working with car wash equipment. Unfortunately corrosion can be a major problem in the harsh chemical environment of car washes. Fortunately SST's fixtures are constructed with anodized aluminum and are highly corrosion resistant. The pictures below show SST's ST40 linear fixtures at a car wash in Topeka Kansas.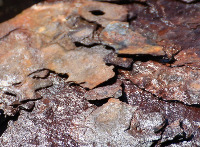 According to NASA's Corrosion Technology Laboratory, corrosion may be defined as "the degradation of a material due to a reaction with its environment". Examples include the shattering of a metal due to hydrogen embrittlement, a weakening of the material due to a loss of cross-sectional area, or the cracking of a polymer due to sunlight exposure.
The picture at left shows rust formation, which occurs when iron (or an iron alloy like steel) is exposed to moisture and oxygen over long periods of time.

Tunnel Lighting
The ST40 fixture is excellent for use in tunnels or on bridges. Our rugged fixtures are highly vibration resistant and not easily damaged by vandalism. Pictures above show before and after lighting for a city tunnel in northern Lawrence, Kansas. The initial lighting setup made use of four, 50-Watt light fixtures (200 Watts total). SST's new lighting uses twelve, 6.5-Watt ST40 fixtures (only 78 Watts total).

Cold Storage Lighting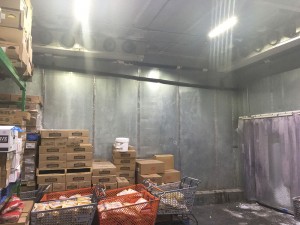 LEDs are ideal for cold storage lighting because they actually operate more efficiently in cold environments! They are ideal for use anywhere cold storage is needed, including at restaurants, liquor stores, and grocery stores. The image above shows SST's ST40 lights lighting the food cold storage at Checkers grocery store in Lawrence, Kansas.