Sunlite's UV LED Curing Units for Flexo Printing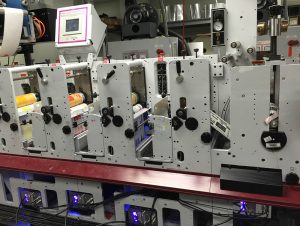 Flexo printing (also known as flexography) is a type of printing process that uses rollers and a flexible relief printing plate.  Flexo printing technology can be used for printing on a wide variety of substrates including plastics, metallic films, cellophane, and paper.  Flexo printing is the ideal process for printing packaging materials such as corrugated containers, paper sacks, plastic bags, food wrappers, and envelopes.
Sunlite's Water-cooled UV LED Curing Unit is ideal for use with Flexo printing at speeds of over 400 ft/min.  Sunlite's water-cooled curing unit generates far less heat than traditional mercury UV lamps, which allows the stations of the flexo press to cure shrink sleeve (shrink film) without the need for roller chillers to prevent melting of the film.
The width of the curing area can be standard 10", 13" or 17" or other custom width. The equivalent intensity is up to 26W/cm2.


Sunlite's UVST80 Series
UVST80 LED Curing Unit Product Specs
 
Features of Sunlite's UVST80 LED Curing Unit used for Flexo Printing
Water-cooled system
Operating lifetime of 20,000+ hours
Light output peak wavelength of 395 nm
Product curing length of 10, 13, or 17 inches
Instantaneous on/off and dimming capabilities
Equivalent power intensity as high as 26 Watts/cm2
Automatic turn on/turn off feature to match printing process
Environmentally friendly (no mercury contained in LED lights)
Does not produce ozone (or require exhaust fans for ozone removal)
Energy Efficient (80% less power consumption compared with traditional fixtures)
LEDs can be placed very close to the substrate (0.25 inches is recommended for most applications)


Customized Designs!
Call us at (785) 856-0219 for more details and to custom design your UV LED curing unit.